September 2023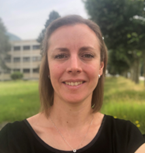 Lise Daniel has been working at CEA since 2007, focusing on Li-ion batteries development. She works in CEA-LITEN division with a special focus on battery characterization in normal, severe, abuse conditions with lab techniques and large-scale facilities (ESRF).
Lise DANIEL and her team at CEA main activities in SAFELiMOVE are experimental characterization, specially focused on:
1) interfaces analysis /leading the Task 5.3 Catholyte-Active Material Interfaces in Cathode and Task 5.4 Solid-Solid Interfaces at full coin-cell level configuration;
2) safety assessment at large cell level / leading Task 7.4 Safety evaluation and Task 8.3 Standardization & product approval protocols for solid state cells.
What was your original motivation to become a researcher?
My main motivation to become a research engineer in electrochemistry is to contribute to the development of innovative technologies and methods with positive environmental and societal impact. I really enjoy exploring new reaction mechanisms, thinking of new experiments, really being an investigator.
What is your (main) research area today?
My main research area today is multiscale characterization of batteries to understand degradation mechanisms and finally develop mitigation strategy against battery failure.
What is the main objective of your team in SAFELiMOVE?
The main objective of the CEA-team in SAFELiMOVE is first to identify degradation mechanisms occurring in solid state batteries upon cycling to bring some guidelines to the partners for development of new materials and/or process, and secondly to assess the safety of such new chemistry in abusive conditions.
What expertise and facilities does your team have to meet those objectives?
Three platforms are used in CEA-Liten to meet those objectives:
i) Nanocharacterization for in-situ/operando XPS and Raman analyses to probe the interfaces between cathode/solid electrolyte, cathode/catholyte and Li metal/solid electrolyte;
ii) Cell prototyping line in dry room to assemble pouch cell with reference electrode in order to monitor the electrochemical behavior of anode and cathode separately in the same time during operation;
iii) abuse testing platform to perform overtemperature tests on 1Ah and 3Ah cells and characterize thermal runaway (energy released, onset and maximum temperatura, volume of gas…).
Which aspects of your research at SAFELiMOVE do you believe are the most innovative and what unique opportunities offer SAFELiMOVE to yourself and/or your organisation?
Most innovative aspect is the development of new experimental methodologies to investigate reaction in operando mode (during charge and discharge of the battery) or in abuse conditions with such a new technology presenting embedded interfaces and absence of conventional liquid electrolyte.
How do you see the future use of the SAFELiMOVE-results and the impact of SAFELiMOVE-project in our daily lives?
SAFELiMOVE results will bring some elements to better understand limitations of the present ASSB, a valuable feedback for new materials developments and cell design, and inputs for modelling. For sure, such results will help to develop a new technology combining high energy, durability and safety.
"Participating in SAFELiMOVE project is really a meaningful activity for me and for CEA-Liten as we are involved in the development of new energy storage technologies. For four years now, it is a stimulating activity with fruitful scientific exchanges and dynamic coordination."